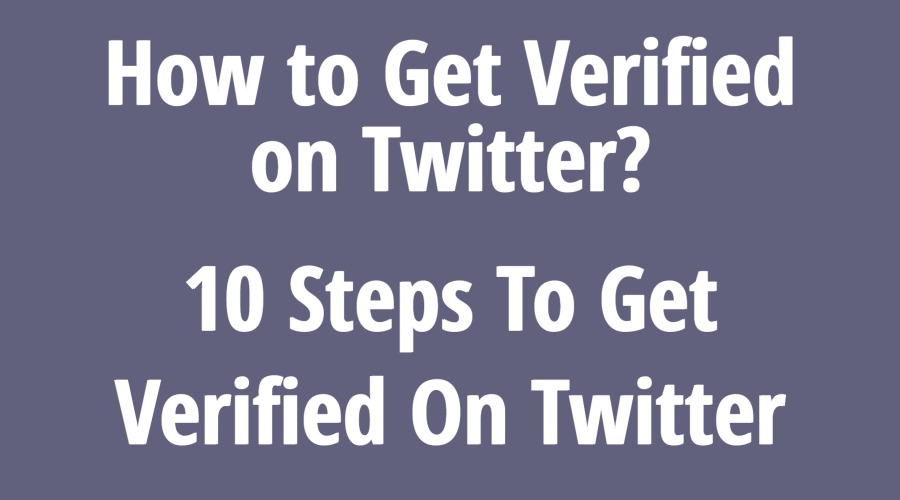 How to Get Verified on Twitter?
The social media platforms are full of bots, scammers, and trollers claiming to be authentic accounts. One such social media platform is Twitter.
Twitter is the social network where all celebrities, presidents, and other big brands tell the world about their presence. So, if you are on Twitter and want to show the world that you are the real deal, you must do what all authentic people do. Get that coveted check mark displayed next to your name. The blue checkmark is a sign of verification from Twitter, telling the users that your account is authentic.
As a business, influencer, or anyone else, having a blue checkmark adds credibility to your account. So, What can you do to get verified on Twitter? Read on to find out how you can get verified on Twitter and prove your originality to the world!
The Rules of Verifying on Twitter?
The Easy Way
Before we tell you about the eligibility criteria for the blue tick on Twitter, let us tell you about an alternative method: SMM Panels.
SMM panels are services that charge you and let you "purchase" the blue checkmark on Twitter. These services work to get your account verified for a fee. Once you make the payment, they will reach out to you to confirm payment acceptance. Afterward, they will ask you about the information needed to get you a verified account on Twitter.
If you choose an SMM Panel, you should have a verified Twitter account in mere days.
How Twitter Verification Works:
The platform has laid out some criteria to get the verification mark on Twitter. These verifications are set in their place by the platform to separate the fakes from the platform and to help get credibility for local accounts.
The Requirements for verification on Twitter are as follows:
1. Start with the basics first. Provide complete information that includes a verified email address or a phone number. You also need to add a profile picture and the name of your Twitter account.
2. You should have logged in to your Twitter account at least once in six months.
3. The account should not have experienced a lockout of any duration in the past six months. Lockouts happen when you post something that violates the platform's rules.
Improving Your Chances of Gaining Verification:
Here are a few things to do to increase the probability of getting your account verified:
●
Get mentioned on the Internet:
Your application holds weight if Twitter finds internet sources that cite you. According to the platform's guidelines, you should have at least three featured references within six months before sending your application.
Improve your chances by participating in blogs and forums, as Twitter looks for your online presence everywhere.
●
A Wikipedia Page:
When applying for verification on Twitter, ensure a Wikipedia page about yourself or your organization. A Wikipedia page is an extension to your online presence on the Internet.
Hire an excellent writer to pen down a page on Wikipedia. If you are confident about your writing skills, take the plunge and write it down yourself. However, ensure that your Wikipedia page holds no opinion of yourself, as it will hurt your chances.
●
Increased Twitter Following
:
The follower count on your Twitter account can make or break your case. The verification process on Twitter demands your account have followers of more than 99.95% of accounts in your region, and beating this number count may vary on your region.
However, you could always employ services like an SMM panel to do the heavy lifting. These services add to the number count of your followers and increase the chances of verification.
What are the Advantages of getting verified on Twitter?
Why should you get verified on Twitter at all? Earning verification on Twitter can have some serious advantages:
1.
Your account gains stability and authenticity:
We have already established that your Twitter account gains authenticity by getting verified on the social network.
However, your benefit is not only limited till there. When you get verified on Twitter, the audience for your page also gets filtered. You will see responses to your account by real people and a supportive following. Twitter filters out the reported accounts with violations and trolls away from your account.
Hence, getting verified can help you see a different side of Twitter.
2.
You can Access Twitter Analytics.
Once you get the blue checkmark from Twitter, the platform also gives you the option to have analytics of your account.
Twitter's attempt at providing a feature as useful as Facebook Insights. It does give you a better insight into how your account is doing. Twitter analytics lets you see the interaction your account is getting. Analytics will also help you know what content is getting more interaction so that you can focus on creating content like that.
3.
Verification on Twitter helps in Gaining Authenticity on other sites:
People on the Internet see the verification sign of Twitter as a credible mark. Gaining a verified mark on Twitter lets people on the Internet know that you are the real deal and that you are a person of some standing.
Moreover, with verification on Twitter, you also have a better chance of getting validation on other social networks. For example, getting verified on Facebook becomes significantly easy if your account has a blue tick from Twitter.
Hence, verification from Twitter is a good way of showing that you deserve the verification. Verification from Twitter will also help other influencers and brands see you as some authority and benefit. Once you gain recognition, you can leverage it to establish a network with likewise accounts.
Final Words
The impact of social media in today's world is phenomenal, due to which it has become essential to become verified on Twitter. Showing on Twitter allows you to show the world that you are an authentic person or a brand. As you may have read above, getting verified on Twitter has many advantages.
This article is your complete guide on how to get verified on Twitter. You will find everything there is to know about the blue check mark. However, there is always an option for you to skip the entire process and let an SMM panel do the work instead. If you can spend a few bucks, an SMM panel is a great way to get verified on Twitter.
Here is to hoping that you found this information useful!